Simply 2nd Resources
is having a linking party.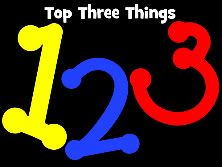 1. Use my clever board.
Here we don't have SMART boards, we have Clever boards. Up until now it has been pretty much a white board. I occasionally use it for reading a story and playing math games. I also need to get a step stool for the students, so they can reach up higher on the board.
2. Centers
Last year my centers were hit and miss. I didn't always remember to change them for the beginning of the week. I also didn't enforce that students stay at a center for an amount of time, so you know what they did when they were done. What can I now do? while I was trying to work with other students. This I need to really figure out.
3. Sing
Last year I had an end of the day song, and then added a few songs here and there through out the year. I would like to sing more this year as well. They really do enjoy it!